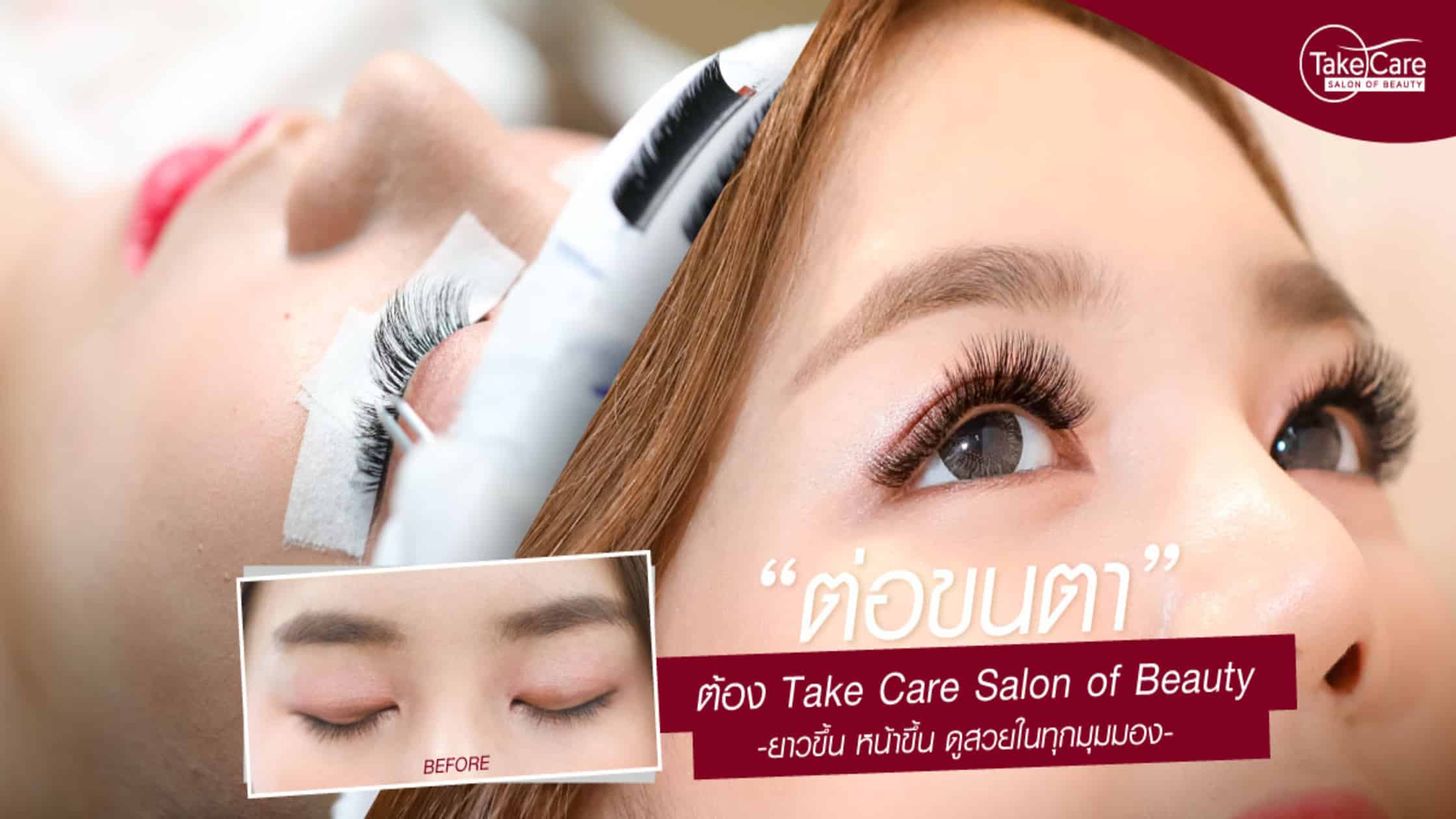 We are one of the most trusted eyelash extension salons in Thailand. All lash extension services are performed by Procare Eyelash certified professionals. As hygiene is one of our top priorities, all our tools are sanitized, sealed, and will be opened only before each service. Our salons are hospital-grade cleaned and disinfected, ensuring a worry-free beauty experience.
What Is Eyelash Extension?
Eyelash extensions or semi-permanent eyelashes is one of the beauty innovations that is a perfect solution for anyone with thin or short eyelashes. By making your lashes look longer, fuller, and darker, extensions will enhance your eye's features. Get a better version of your eyes but still be you with a variety of extension designs to choose from, from sweet, dolly, to sexy.
Should I Get Eyelash Extensions?
It depends on your purpose and needs as each person tends to have different concerns and physical facial structure. Lash extensions will change how your eyes look, your chosen extension design will enhance your style, so you can be more confident to be perfectly you.
Who Are Lash Extensions For?
Lash extensions are perfect for:
Those with short and/or downward pointing eyelashes.
Those who want their eyes to look bigger, creating a softer look.
Those with thin lashes and would like to have fuller lashes.
Those who want their lashes longer, thicker, and want to save time getting ready in the morning.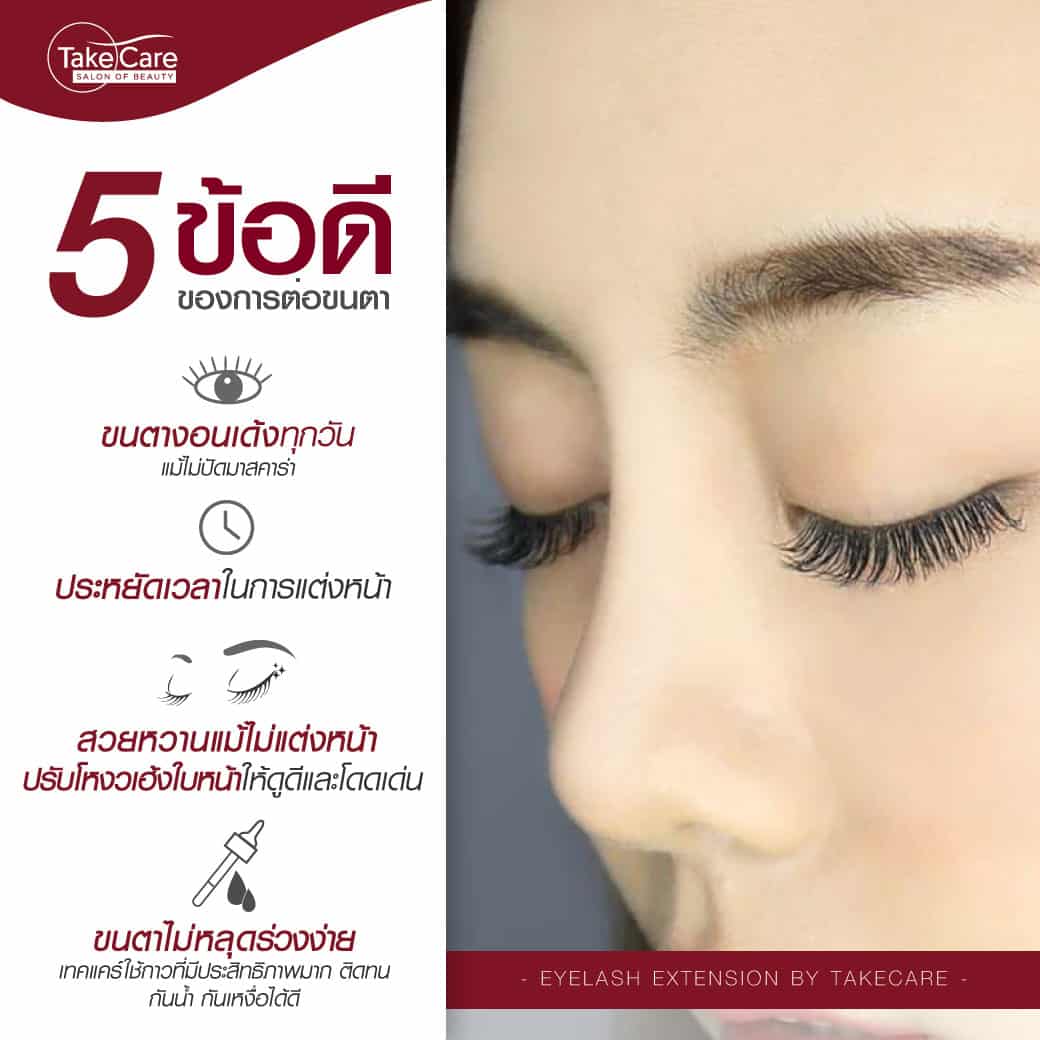 Take Care's Unique Lash Extensions
At Take Care, a natural look that suits your facial features, the shape of your eyes and eyelash condition is our aim. We use Procare, a premium Japanese imported lash brand, that offers a wide selection of lash sizes, lengths, curves, allowing us to offer you the extension that is the perfect match for your lashes.
As the extensions are totally customizable, rest assured whichever design you choose, it will compliment your eyes' shape, giving you the better version of yourself. Procare lashes are made from the softest, most lightweight silk. The glue we use is the first-ever in Thailand that is Thai FDA certified. It is sweat-proof, weightless, and won't appear chunky, making it unnoticeable and almost weightless after it dries.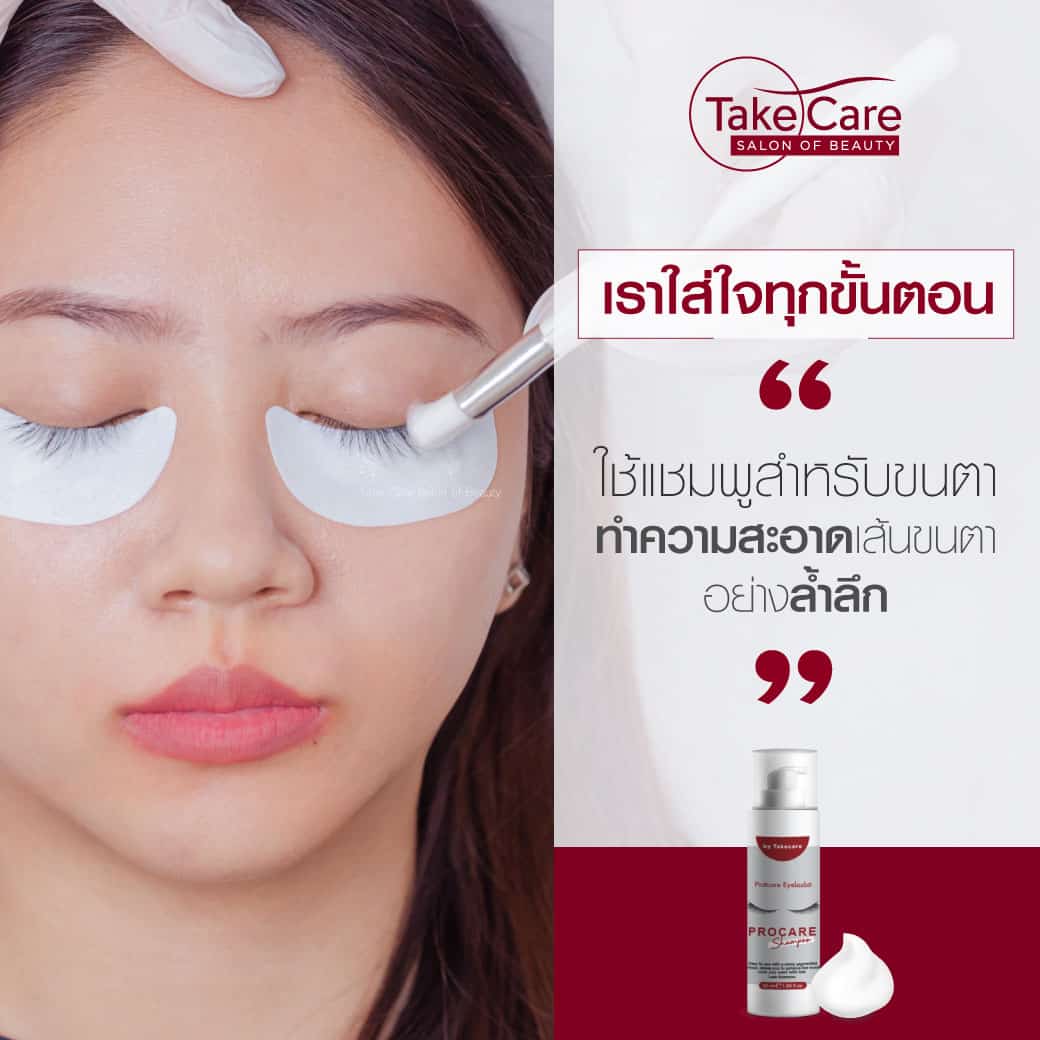 Lash Extensions at Take Care
Difference of Procare lashes vs other brands' lashes. 
Because lashes from Procare, Japan's most popular premium lashes brand, are made from silk, it's so light you almost can't feel their weight. Silk lashes are perfect for Asian eyes as they are known to look more natural and subtle compared to mink, synthetic, faux mink lash, which look natural on those with double eyelids and deeper eye sockets like Europeans and Arabians. While it is technically OK for Asians to get mink lash extensions, it will create a more dramatic, less natural look on smaller, and softer eyes like Asians'. That's why when it comes to our lash extensions, we decided to use Procare.
How long do extensions last? 
Depending on your activity with eyelashes and how you treat them, your lash extensions should last about 2-3 weeks, with some fall out when your natural eyelash sheds from the lash line. 3 weeks after your visit, our call center will send you a reminder for your refill appointment, to maintain your lashes for the best result.
Types of Lash Material That We Use

Silk Premium – Signature Take Care lashes, made from soft, lightweight silk
Duree – Slimmer, softer option with split ends creating thicker, but natural-looking lashes
Duree Deep Black – As light and thick as Duree but in a deeper black for a more dramatic, yet natural look
Silk Premium Lash
Signature Take Care lashes with round roots and less pointy tip than Duree Lash, made from soft, lightweight silk that you almost can't feel their weight.
Duree Lash
The extra fine lashes that are softer, lighter than Silk Premium. Duree is the best option for those who would like to achieve natural fluttering lashes. It has a flatter root, allowing more space for adhesive, so it lasts a bit longer, and split ends, which creates volume.
Duree Deep Black 
With deeper, darker black color, but the same weight compared to Duree, and slightly bigger roots and tips than Duree and Silk, Duree Deep Black is the best option for those who wish to achieve a darker, thicker, fuller, but still looking fluffy and natural lashes.
Types of Lash Extensions
At Take Care, we only offer 2 types of extensions
1) Procare Lash Per Lash extensions: using one single extension per lash, giving you a "natural but better" look.
2) Procare Lash Volume: using multiple extensions per lash, for more dramatic, fluttering looks. There are 7 designs for you to choose from.



Procare Lash Per Lash
Get longer, thicker lashes with the most natural extensions using 0.10-0.20 mm Silk Premium. Perfect for those who have smaller eyes, shorter lashes, or those with downward-pointing lashes who would like to achieve a real lash, but better look.
Procare Lash Volume
We attach 3 to 4 0.07mm extensions per real lash which will create fluffier, more fluttering, more dramatic lashes than the Procare Lash to Lash option. Perfect for those with thin lashes, who would like to achieve a thicker, fuller, closer-to-fake-lash look. You will love this if you regularly wear full-on makeup.
Choose from 3 options of Procare Lash Volume Extensions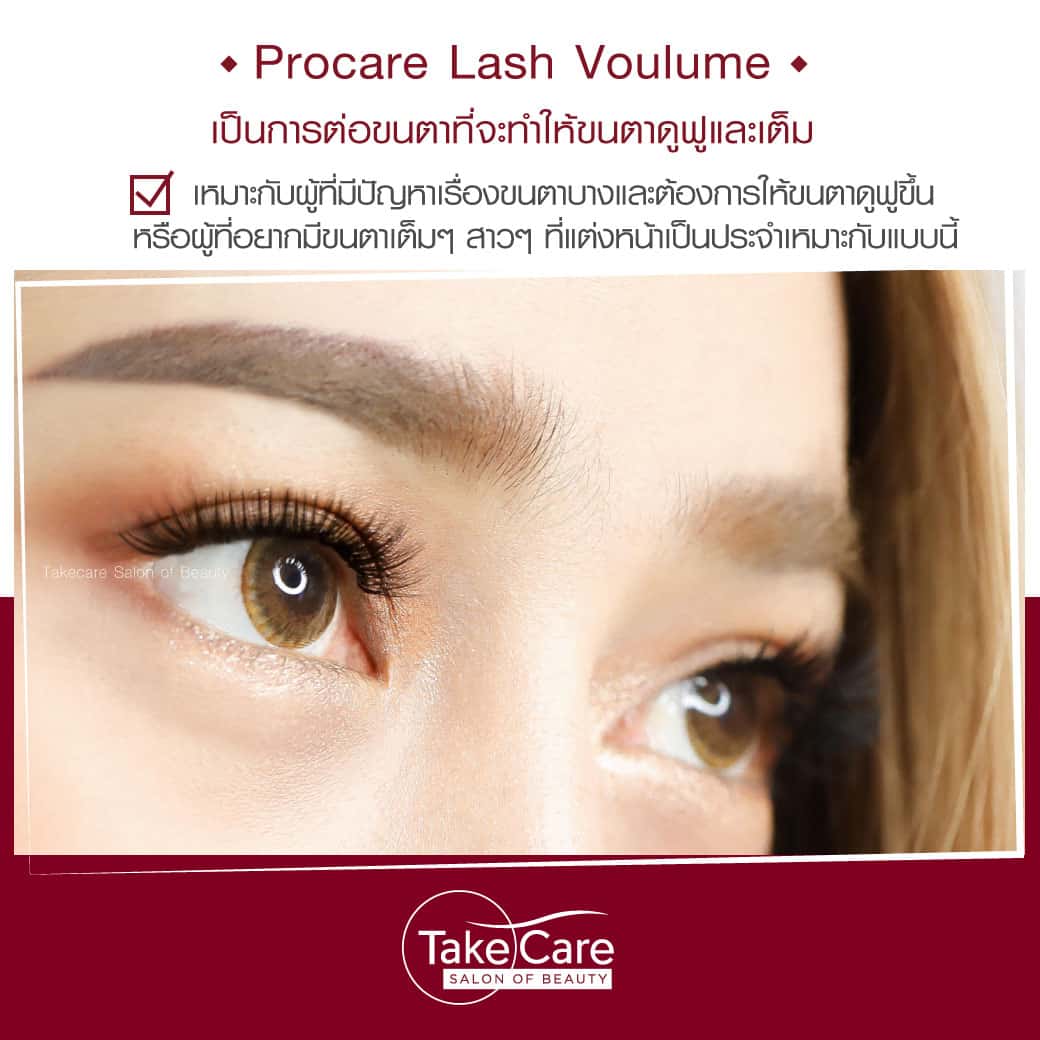 Procare Lash Volume
Volumize extensions with 0.05-0.07mm thickness, and 8-15mm length.
Deep Black Volume
0.05-0.07 thickness, 8-15mm length, with that same curl looking as if it's a lash-per-lash.
Magic 
Criss-cross hair with 8-15mm in length giving you fluttering lashes, just like a fairy tale princess.
At Take Care, We Offer 7 Volume Extension Designs
American Doll: Designed to make your eyes look bigger, rounder, and doll-like, with an ultra-curly fan.
Camel: The curl gets curlier, and longer towards the outer corner of your eyes
Narrow Maetel: Using long but less curly extensions around the outer corner of the eyes to create a sexy, foxy look.
Gorgeous: Achieve a gorgeous look with a super curly fan. The length of the extensions gradually gets longer from the inner to the outer corner of the eyes
Color Mix: With this design, you can match your eye color with the color of your hair and eyelashes, or if you're feeling fun, simply pick any color you like ... because why not?
Natural Charming: Get your natural look, but better, with less curly extensions. We apply more lashes around the center of the eye to make your eyes pop.
Rang Doll: Ultra curly lashes extensions get longer from the inner to the outer corner of your eyes to achieve a doll-like look.
Take Care Lash Extensions Review
Take Care Signature Extension Techniques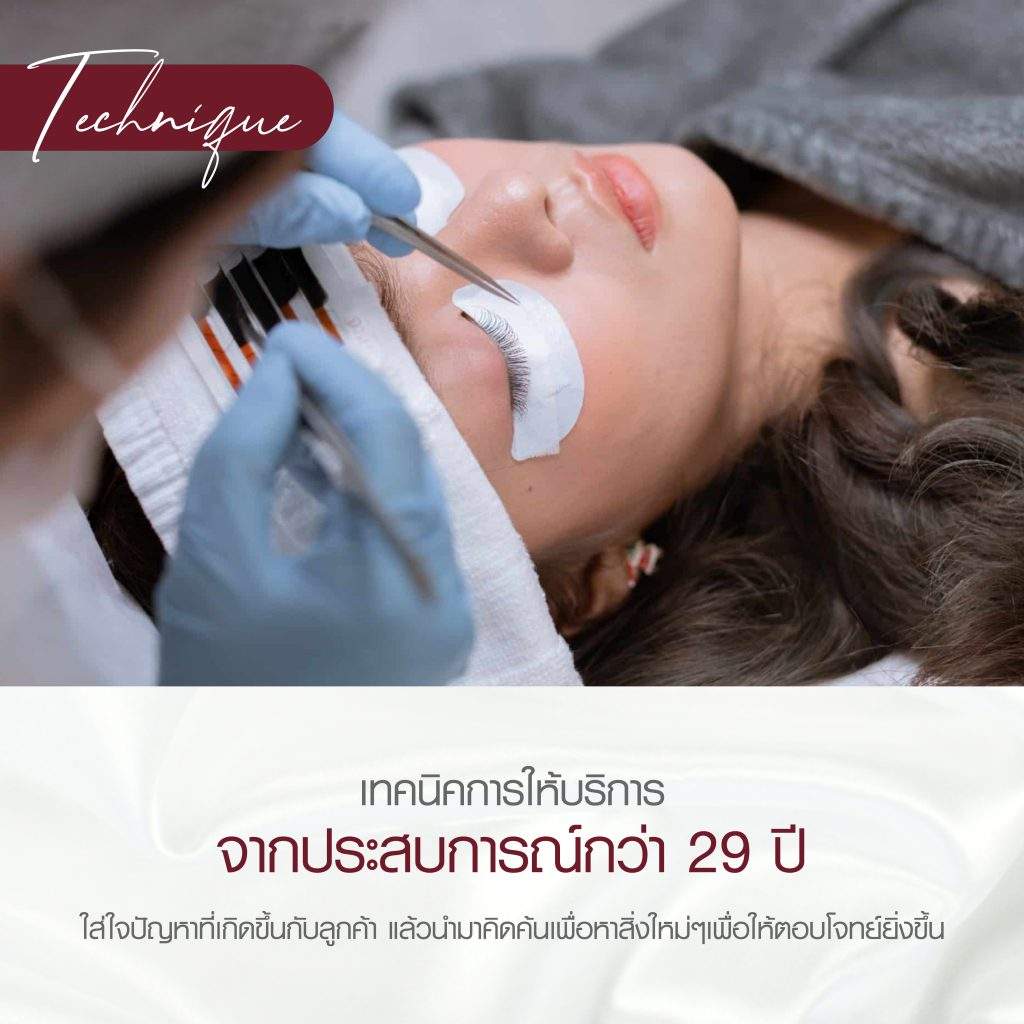 We only offer lash by lash extensions 

Each artificial lash will be applied approximately 1.5 mm away from the root of your lash to avoid irritation. 

Our technicians will use their experience and know-how to create longer, fuller, but natural-looking lashes for you. 

We use Procare lashes, premium lashes imported from Japan.

We make sure that the extensions' length is matched with your natural lashes to avoid fall outs.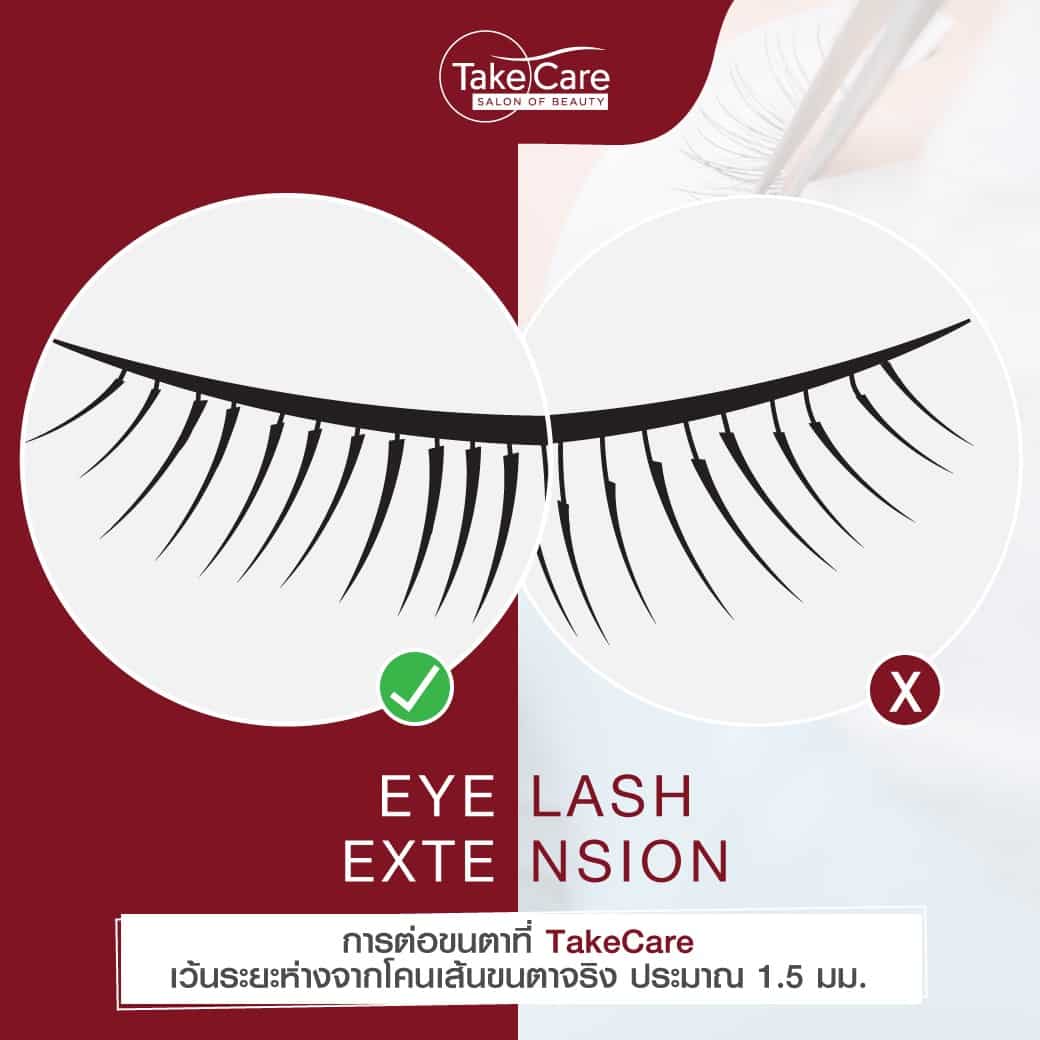 Extensions Prices at Take Care
Process of Service
Making Appointment
We recommend making an appointment in advance before you come in. Simply drop us a call and let our technicians know your preferred date and time, and we will call to confirm your booking before the date.
Consultation
Please let us know your preferred lash design with our technician. Our technician will then analyze your eye shape and your lashes' condition and recommend the extensions that suit you. After your approval, the technician will design your extensions and let you know the perfect quantity of lashes to be used.
Lash Extensions Process
We will start by displaying sterilized tools for you.
Deep cleanse your lashes with lash shampoo.
Apply eye pads under your eyes.

Apply selected type and size of extensions, 1.5mm away from your natural lashes' roots.

Using Nano Mister reduces the lash glue smell.

Lash sealing coating is applied after the final touch.

During your wait, relax with our mini back and shoulder massage.
Extension Aftercare

After application, keep your eyelash away from water for 4-5 hours.

Avoid using oil-based products around the eyes.  

Use a lash wand to brush through and style your eyelashes.

For the best result, we recommend that you book a refill appointment every 3 weeks.

We offer a 7-day satisfaction guarantee. If any lash falls out or if any irritation occurs, please let our team know. We will schedule an appointment to have them fixed. (Only available to clients who regularly come in for refill sessions) 
การต่อขนตาไม่ใช่เรื่องไกลตัวของเราอีกต่อไปค่ะ หลายคนอาจจะชอบ และหลายคนอาจจะไม่ชอบ แต่นี่ก็เป็นอีกหนึ่งนวัตกรรม เป็นเครื่องทุ่นแรงที่เข้ามาช่วย Support ให้ชีวิตประจำวันของคุณผู้หญิงง่ายขึ้น ไม่มีอะไรเสียหายค่ะหากคุณผู้หญิงไม่ชอบขนตาที่ต่อก็แค่ถอดออก และแนะนำว่าการถอดขนตาที่ต่อออกนั้นควรกลับมาถอดที่ร้านจะดีกว่าค่ะ เพราะหากคุณผู้หญิงถอดเองที่บ้านอาจทำให้เกิดการระคายเคืองได้เนื่องจากคราบกาวที่ต่อขนตานั้นอาจออกไม่หมดทำให้เกิดปัญหาขนตาร่วงตามมาได้ค่ะ การต่อขนตาอาจเป็นประสบการณ์ความสวยครั้งใหม่ และครั้งแรกของคุณผู้หญิงหลายๆ ท่านแต่ไม่น่ากลัวเลยค่ะ เพราะถ้าทุกท่านมัวแต่กลัว ท่านจะไม่มีวันได้พบกับประสบการณ์ความสวยอันน่าทึ่งนี้ ที่สามารถเปลี่ยนลุคให้คุณผู้หญิงได้อย่างไม่คาดคิดเลยค่ะ 
สำหรับท่านใดที่สนใจต่อขนตาที่ Take Care สามารถเข้าใช้บริการได้ตามสาขาด้านล่างนี้เลยค่ะ
สอบถาม | นัดคิวรับบริการที่นี่ค่ะ
Customer Care : 02-0266-431